Broomfield, Sidney Herbert - P263
From wiki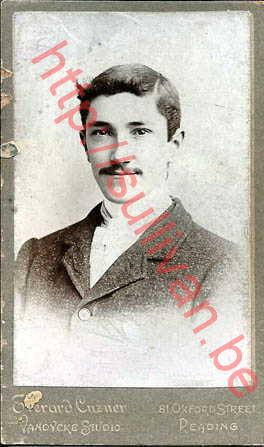 Sidney Herbert Broomfield was born in the small Surrey village of Wonersh in 1879. Sidney Broomfield was the second son of Alice Manfield (born 1857, Wonersh, Surrey) and Andrew Broomfield (born 1851, Wonersh, Surrey) an agricultural labourer. [Alfred Henry Broomfield, Sidney's brother, was born in Wonersh in 1875, but, sadly, Alfred died in 1884 when he was only 8 years old].
Andrew Broomfield, Sidney's father, died in 1887 at the age of 36. Three years after her husband's death, Mrs Alice Broomfield, Sidney's widowed mother, married Thomas Killick (born 1869, Albury, Surrey), a young gardener who lived at Chilworth, near the Surrey village of Shalford. When the census was taken on 5th April 1891, Sidney Broomfield was living with his mother and step-father, Thomas Killick, at Chilworth, Shalford, Surrey. At the time of the 1891 census, Sidney's mother (Mrs Alice Killick) was pregnant and during the 4th Quarter of 1891 she gave birth to a daughter named Alice Winifred Killick.
By the time the 1901 census was taken, Thomas Killick and his family had moved to Old Windsor, Berkshire. The 1901 census return records Thomas Killick, his wife Alice, their nine year old daughter Alice Winifred Killick and his stepson Sidney Broomfield at The Lodge, Old Windsor, Berkshire. Sidney's stepfather was still employed as a "Gardener (Domestic)", but 21 year old Sidney Broomfield had found work as a "Coach Painter". It is likely that Sidney Herbert Broomfield had his portrait taken at Everard Cuzner's Vandycke Studio in Reading, Berkshire, around this time. Sidney might have planned to present this portrait to his fiancee Lilian Sumpter.
In 1903, Sidney Herbert Broomfield married Lilian Blanche Sumpter (born 1882, Windsor, Berkshire) in his bride's home town. The couple settled in Clewer, Berkshire, where their two children were born - Violet Lilian Broomfield (born 1906) and Sidney Edmond Broomfield (born 1908). By the time the census was taken on 2nd April 1911, Sidney Herbert Broomfield and his family were living in Shelfanger, Norfolk, where Sidney was raising poultry on a smallholding farm.
Sidney Herbert Broomfield died in Shelfanger in 1957 at the age of 77. He is buried in Shelfanger Churchyard.